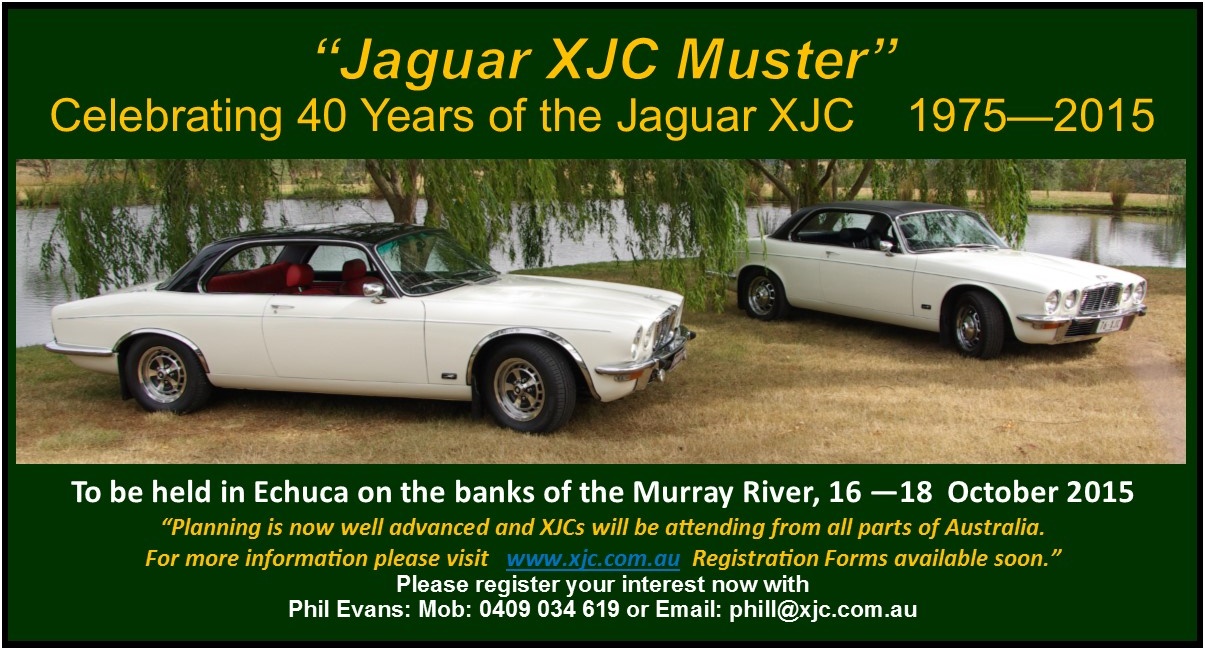 Registration Forms and full information available HERE:
http://www.xjc.com.au/XJC-40th-Anniversary-Celebrations.htm

You can also find us on Facebook, just search for: Jaguar XJC - 40th Anniversary Celebrations - Echuca 2015

The XJC Story
The XJC is a two door version of the XJ6 four door saloon. When Sir William Lyons began styling exercises for the new XJ models in the mid 1960's, it was obvious that he had notions of a two door coupe in mind for eventual production. Many of these early styling mock-ups were based on the coupe theme in various shapes, forms and sizes, and the XJC was the last Jaguar car to be designed and built by Sir William Lyons.
The two door coupe is based on the shorter wheelbase XJ Series l platform and was clearly meant to be the sporty version of the XJ models. In the UK, Europe, South Africa, New Zealand and Australia they were offered in four versions: Jaguar 4.2C; Jaguar 5.3C; Daimler Sovereign and the Daimler Double Six.
All coupes were equipped with a black vinyl roof as standard equipment. Most likely it was because the marketing folks insisted on it, as vinyl roofs were the flavour of the month in the automotive industry at that time. Whatever the case, many present day owners have chosen to remove this feature. XJCs are extremely well proportioned with the styling of the pillarless coupe giving a sense of 'openness' that is often associated with a convertible.
Sadly the production of the XJC was all too short. After commencement in 1975 the last of these great vehicles rolled off the line in November 1977. Paradoxically this has helped the XJC to become the rare collectible classic it is today, although prices have never reached the dizzy heights achieved by the E Type. It remains one of, if not the best value for money classic cars available today. To this day, the XJC is Jaguars only two-door fixed head coupe saloon.
Jaguar never produced the XJC in convertible form. However a number coach building companies as well as some private individuals produced modified XJC in convertible form.
(Information selected from www.XJC.com.au)
A group of enthusiasts (Jaguar Club members) are organising an event to celebrate the 40th Anniversary of the commencement of XJC production in 1975 - "an XJC muster" to take place in Echuca VIC, from Friday the 16th till Sunday the 18th of October, 2015.
All Jaguar and Daimler XJC owners are cordially invited to attend. We are seeking expressions of interest so we may best organise accommodation and dining venues, so we invite interested members to please contact us and register your interest.
Full details here:
http://www.xjc.com.au/XJC-40th-Anniversary-Celebrations.htm
You can also find us on Facebook, just search for: Jaguar XJC - 40th Anniversary Celebrations - Echuca 2015
Categories: None
/